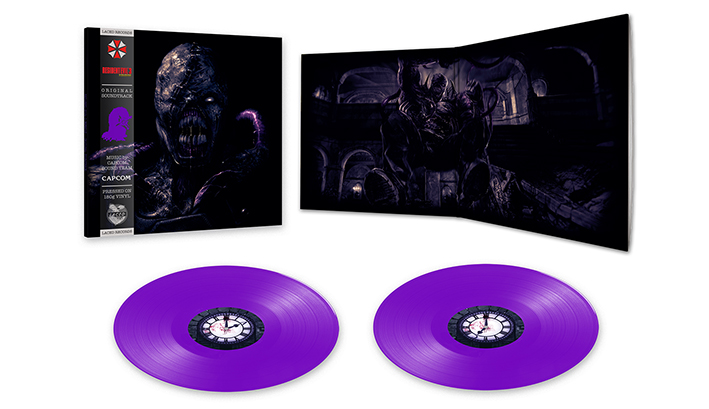 Resident Evil 3: Nemesis Gets A Vinyl Soundtrack
This looks like a must for collectors.
Deluxe double vinyl available with black or Limited Edition purple discs
– Features score from 1999 PlayStation game
– Pre-orders open now, shipping April 2020
Laced Records and CAPCOM once again partner to bring fans Resident Evil™ soundtracks on audiophile-quality vinyl. Pre-orders are now open for the Resident Evil™ 3: Nemesis (aka Biohazard™ 3: Last Escape) double LP, featuring remastered audio from the original 1999 PlayStation game, and brand new vinyl sleeve artwork by Boris Moncel.
Resident Evil 3: Nemesis saw the series move in a more action-oriented direction, while retaining the fixed camera angles of the previous titles. It also introduced the world to Nemesis, a merciless walking bio-weapon who fixated on destroying Jill Valentine and any remaining S.T.A.R.S. members in Raccoon City. Composers Masami Ueda, Saori Maeda, and Shusaku Uchiyama chose a moody cinematic action sound for the score, whilst retaining the series' woozy, synth-horror stylings.
The soundtrack has been remastered specifically for this release, and will be pressed onto audiophile-quality, 180g heavyweight vinyl LPs housed in a striking gatefold sleeve. It is available as a Standard Edition (traditional black discs) and Limited Edition (purple discs — exclusive to the Laced Records store.)
The Resident Evil 3: Nemesis (Original Soundtrack) double vinyl can be pre-ordered now via www.lacedrecords.com (www.lacedrecords.co outside of the USA) and will ship in April 2020.
Price: GBP £33 / USD $35
The vinyl set is only available in North America and EMEA (Europe, Middle-East, and Africa) territories